Janet and illustrator Yangsook Choi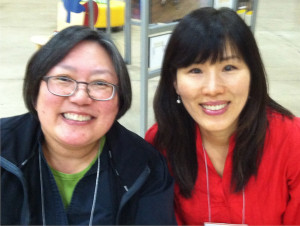 —Oppenheim Toy Portfolio Gold Award
—Nick Jr. "Best Holiday Book[s] of 2000″
For me, the Lunar New Year is truly a time of hope. Once I have failed all the crazy new year's resolutions I routinely make on January 1st, here it is—I have a second chance, a fresh start. I hate cleaning house but I love a clean house, and each Lunar New Year's Eve, I madly rush around dusting and mopping and clearing my desk, making room for some good luck to settle. And then, on Lunar New Year's Day, I feel great. I eat well for a few extra weeks. I walk. Why couldn't this happen at any other time of the year? It could—and should! Teachers and librarians might want to read this book at the beginning of the "real" new year for most of us—the beginning of the school year, in September!
When children read THIS NEXT NEW YEAR, I want them to think of their own big dreams, and to start seeing the way to make them come true.
Chinese Bilingual Reading
Listen to Janet and Minjie Chen (the lead translator for this book) reading the Chinese-English bilingual text of This Next New Year—while you follow along in the book!
Listen to Janet and Yangsook Choi (the illustrator of this book, who also translated it) reading the Korean-English bilingual text of This Next New Year—while you follow along in the book! (And if you sometimes don't like listening to recordings of YOUR own voice, Janet knows exactly how you feel. There's a little snippet at the end that we almost took out, but we decided to keep it in—just so you know that you're not alone!!)
"The concepts of renewal, starting over, and luck, which inform many of the rituals, will resonate with young readers, and the narrator's personal impression of the celebration makes this a refreshing departure from the standard nonfiction holiday-introduction fare."
-Horn Book
"Wong's poetic voice creates art from the ordinary."
-Kirkus
"Wong carefully and clearly presents the reasons behind the rituals in a manner understandable to young children…a good choice for anyone getting ready to celebrate Chinese New Year."
-School Library Journal